you are here
Ultimate fit no-pull harness classic petrol blue
Ultimate fit no-pull harness classic petrol blue
Prices and order
For prices and orders, please log in.
You can only order as a professional customer at Laroy Group
Specifications
Ergonomic design with plenty of freedom for movement
Hard-wearing, light, breathable materials
Stainless steel attachment rings & reinforced D-rings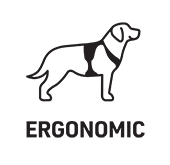 Part of this concept
---
---
Product Description
The ultimate ergonomic anti-pull harness
Get out and about with the EXPLOR Ultimate Fit No-Pull Harness, a well-designed,  ergonomic dog harness which is ideal for a daily city walk or a big outdoor adventure. Your dog will enjoy optimal freedom of movement because the pressure which results from pulling is evenly distributed across the chest. This ensures that  vital organs in the neck are protected.  The harness has two stainless steel attachment rings: one on the back, suitable for calm or older dogs that can more easily be kept under control and another reinforced D-ring on the chest piece to control dogs that pull on the leash. The EXPLOR Ultimate Fit No-Pull Harness is adjustable around the neck and chest, which, in combination with the hard-wearing materials, makes it perfect for almost all dogs. The buckles are located around the middle, so the dog does not have to lift its leg(s) to put on the harness. To protect the dog's coat and skin from chafing, most of the straps and buckles are covered with soft, breathable materials. In addition, the light but high-quality fabrics used for both the inside and outside dry quickly, which is very practical if your dog likes to go swimming. To prevent your dog from getting caught on branches when roaming freely, the harness has no loops or protruding parts. EXPLOR Ultimate Fit also takes your dog's safety in traffic into account. The reflective piping is located in the right places for optimal visibility in traffic. There is also a spacious inner pocket in the chest area of ??the harness for an ID tag so that the tag is easily accessible and remains undamaged. Go out & EXPLOR! 
Packaging info consumer unit

---